DIGITAL FOOTPRINT & SEARCH VISIBILITY
LEAD GENERATION 
Industry: Hospitality/Technology
Horizontal Capabilities:
Luxury Transportation
Logistics
Hospitality
The Brief: From Obscurity to Visibility Through Organic & Paid Marketing
A brand new dispatching software & limousine services firm approached Webtage to launch them online and generate online sales.
We built a dynamic web and mobile site with reservation and quick quote capabilities, optimized them for high traction keywords and set up a search ad campaign via the Google Adwords platform.
My Limo Time saw their visibility soar from obscurity to front page within 3 months of Search Engine Optimization campaign. Google Adwords campaign resulted in a  25% conversion rate.
1200%
Growth in Targeted Website Traffic
75-100
Qualified Inquiries per month
Startup Launch & Marketing Strategy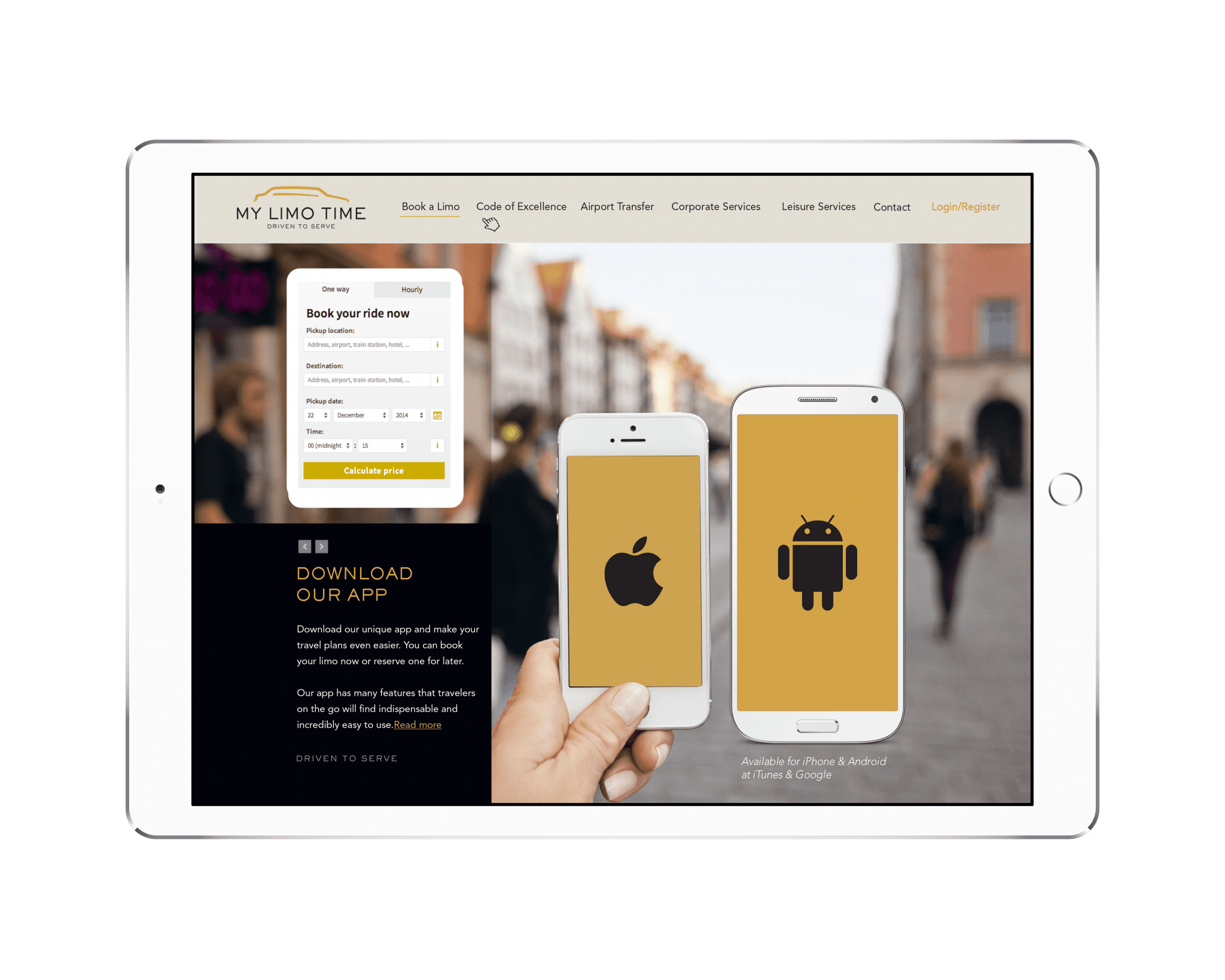 Strong visual and verbal brand identity to establish the business as a high-end travel provider in the hopsitality sector, including logo, tagline, visuals, website, and social media branding
A fully-customized website for My Limo Time, a responsive site for mobile users (a crucial requirement for a limo company), integrated online reservation capabilities, and branded the business across all online channels.
Lead generation through conversion optimization strategies, SEO, and Google Ads
The Process
Simple UX + Complex Strategy
Step 1. Personal Brand Development
Company positioning through unique firm positioning and visual and verbal branding were carried and integrated across all online channels. Logo, tagline, visual branding, brand positioning, brochures, and web content solidified unique value propositions and established a high-end brand.
Step 2. Conversion Optimized Website Creation
A responsive & dynamic  web & mobile sites with online reservation & quick quote generation capabilities were developed with functionalities to deliver outstanding user experience. Outstanding experience coupled with effective keyword research and highly targeted offsite optimization resulted in front page visibility within 3 months.
Step 3. Search Visibility
Smart strategies and data-driven Google Adwords resulted in a outstanding click through rate and a 15% conversion rate. Coupled with SEO search engine ranking position, there was a 1200% increase in targeted website traffic.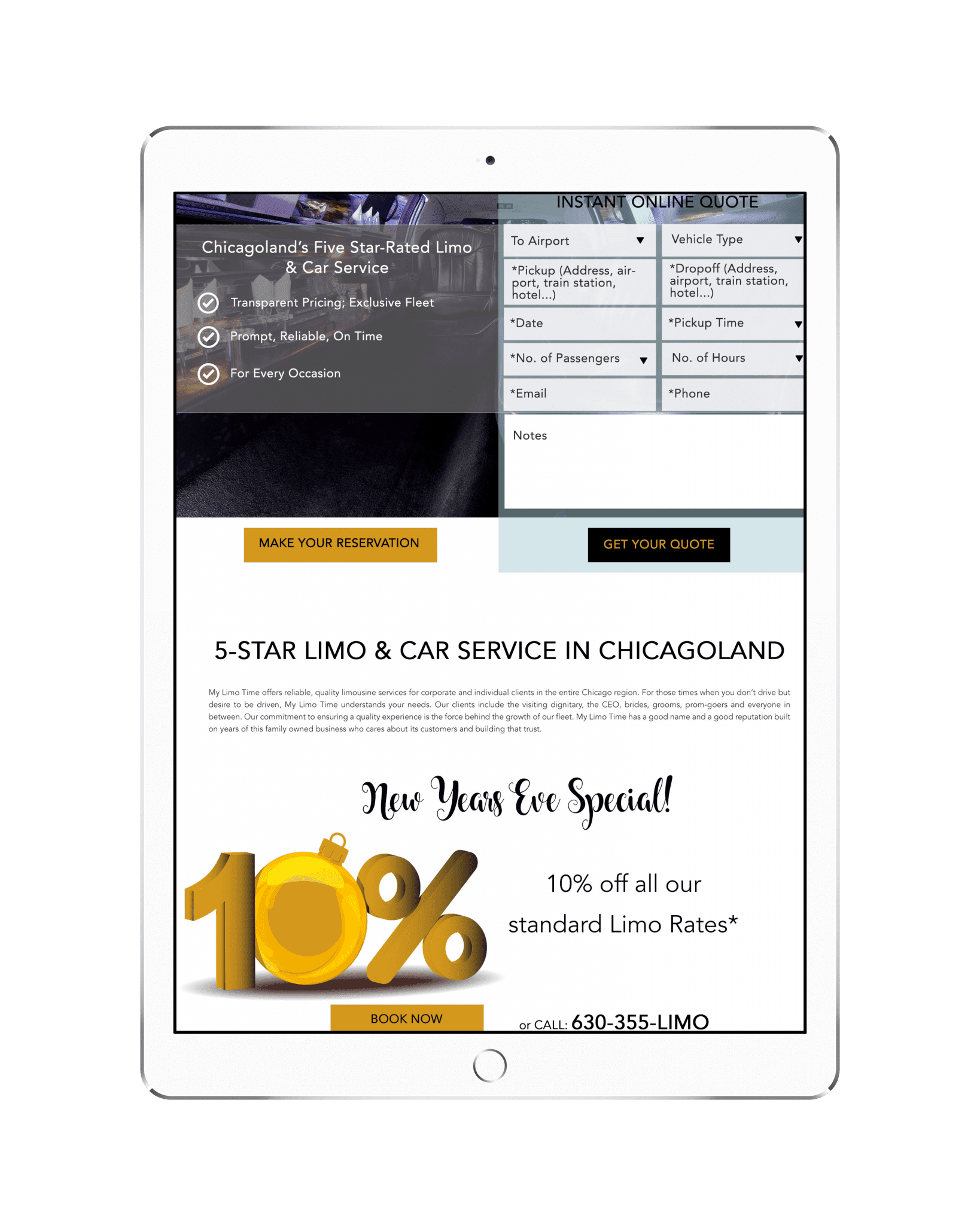 It's truly amazing where this website site has gone and the clients it brings to JW Construction and Design. JW is highly grateful for all the hard work and dedication that Snigdha has put into and continues to put into our company. Your work has taken my company from 80% referral based to now 90% internet based. Without our outstanding website we would not be where we are today. Thank you!

Owner, JW Construction & Design Services

"Webtage has taken our website (including mobile site) on page 1 of Google for all major keywords and they are always looking for ways to help us get more and more online reservations. It's like having a marketing team that is always watching out for us and completely involved in helping improve our top-line."

Owner, My Limo Time

We worked on projects that were large-scale efforts and required outstanding brand strategy and a solid understanding of digital marketing for their respective industry. Snigdha's experience and close attention to every detail led the campaigns flawlessly from development through completion, and made my job as a designer easier than usual. Final products included marketing collateral, leave-behinds, identity materials, website and mobile app design. I would highly recommend Snigdha to anyone that needs a professional brand strategy and/or digital marketing services to get better results for their business. She is amazing and enjoys what she does!

Senior Designer, DeVry University

Snigdha has worked with us at DigiVino for a number of years, and continues to do so, much to my appreciation. Her work is outstanding: professional, prompt, effective and polished. She is a delight to work with and I highly recommend her.

Principal, DigiVino

We truly appreciate how responsive you've been, your dedication to the product and the knowledge you've shared with us in during the development the client site. Please accept my personal gratitude – You've been nothing but gracious, professional and very patient throughout the development process. I'm very proud of the site and you and your team deserve a huge applause.

Creative Director, JMG, Inc.

What one can expect from a person of your caliber is ONLY THE BEST. Great job and honestly not surprised. The AMI Video turned out really well and thanks to you and your team for such a great job!

Optimized Solutions, CEO

Really loved your work... Will connect again for other collaterals. Great job.

Vice President, Optimized Solutions

After trying to work with other marketing partners, I contacted Snigdha and her Webtage team a few years ago and I have never looked back. They are professional, responsive, insightful -- I could go on. Webtage also engaged us in weekly meetings towards expanding our reach and developing materials to promote awareness about various health initiatives throughout the year. Through Webtage's efforts, Los Gatos Doc has seen an increase in patient referrals, provided numerous tips for leading a healthier lifestyle, and developed the capacity to communicate high quality and credible information in the midst of a health crisis. Whether discussing in depth market strategy focused on how to grow my business over the next 5-10 years or helping to design a simple and educative infographic about a pandemic which has been reshared far beyond my own practice, Snigdha and Webtage deliver the highest quality work on time, every time. I will do my best to continue my partnership with Webtage -- my business depends on it!

CEO, Los Gatos Doc, Inc.

Webtage has helped my dental practice in an amazing way. I must give credit to Snigdha S Mazumdar. If you ever need true website design and SEO she's the woman! Snigdha is innovative, personable, practical and not to mention her professionalism and timeliness were more than what I expected from a web designer. She and I have spent quite a bit of time brainstorming on various aspects of my business and have helped me see things from an "out the box" perspective. From the bottom of my heart I am grateful to her and her team. I know our business relationship and friendship will last forever. Happy holidays Webtage team!!

Blue Turtle Dental, Practice Head

Webtage's work has helped tremendously since the pandemic. Our business model has had to make a dramatic shift and Webtage helped us quickly develop an online presence. Would recommend to anyone trying to grow their business!

Cambridge Dental Studio