In a competitive digital world, businesses now need to focus on their online presence more than ever before. A digital presence builds trust and relationships with your customers and allows you to be found easily online.
There are many strategies and tactics that you need to consider when building and promoting your business online.
To reach more people online, the Search Engine Optimization process plays a major role. SEO boosts your content online, making your website rank higher in search engines, and increasing qualified traffic to the website. Within SEO, there are two categories: National SEO and Local SEO. The two seem similar, there are different reasons for undertaking them and different strategies to help promote your organization on search engines.
Local SEO Vs National SEO
When it comes to marketing a business online, several different strategies and tactics can be used. However, one of the most important is search engine optimization (SEO)—and, within that, national SEO and local SEO. Local SEO is a strategy that helps to get more visibility for local search-specific keywords. National SEO is aimed at companies with a nationwide reach. It's the strategy that focuses on promoting your business to rank for broad, highly searched keywords. 
What is the Difference Between Local SEO and National SEO?
There are some distinct differences between the Loacl SEO and Nationa SEO strategies.
Key Differentiation 1: Target Audience
Businesses that engage in National SEO generally target a broader audience. National SEO is best suited for businesses with a national or global target audience. If your target audience is national or international, then ensure that you optimize all the pages on your site with the right titles, meta descriptions, headings, and content that's suited to the needs of your audience.
Local SEO businesses' websites are designed to attract customers in a specific area. Optimizing your website for local searches is an important step to increasing location. Make sure that all your locations are listed correctly on your website so that customers can find your business easily.
Key Differentiation 2: Keywords & Targeted Search Real Estate
National SEO campaigns target various keywords and phrases that relate to the product and services without any geography. Important Search Engine Ranking Position (SERP) features include organic listings, People Also Ask (PAA) boxes, and featured snippets. 
In order to get featured on search engines, optimize the website content with broad keywords and long tail keywords. If 'running tights' is a broad keyword, 'best breathable running tights' would be a long-tail keyword. 
Broad keywords are highly competitive and may be harder to gain visibility for. Try to target long-tail keywords that use a different strategy. These phrases are longer and more specific than broad keywords and therefore may allow you to gain visibility for highly relevant keywords faster. 
Second, use semantic keywords (words or phrases that are related to each other conceptually) properly to get visibility for organic listings, PAA boxes, and featured snippets. For example, if we were to speak about "digital marketing," a semantically related keyword might be "SERP" or "SEO."
A PAA box includes similar questions that people have asked on the topic that the user is seeking more information on and appears like this on search engines: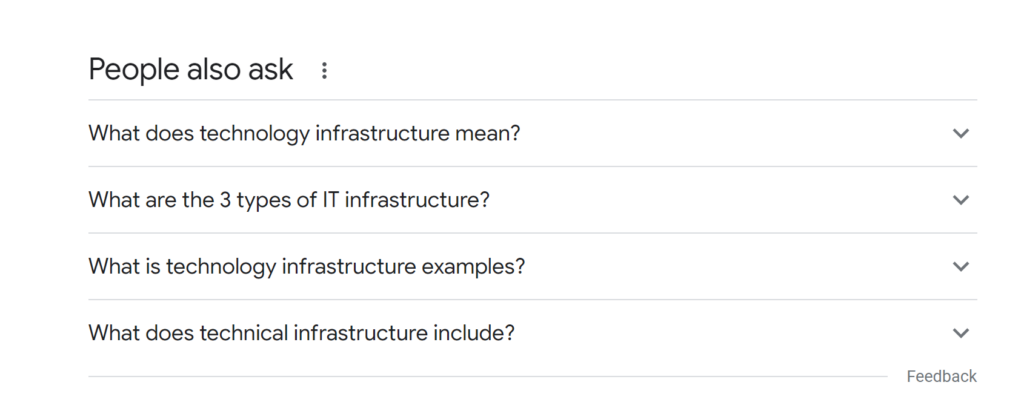 You might find more PAA questions about your brand or related to your industry. Make sure to answer all of those questions on your FAQs page on your website. In order to rank in a PAA box, your content must include the most relevant answer for your target query.
A featured snippet, on the other hand, is a reversal of typical search results where the descriptive snippet appears first, followed by the website link: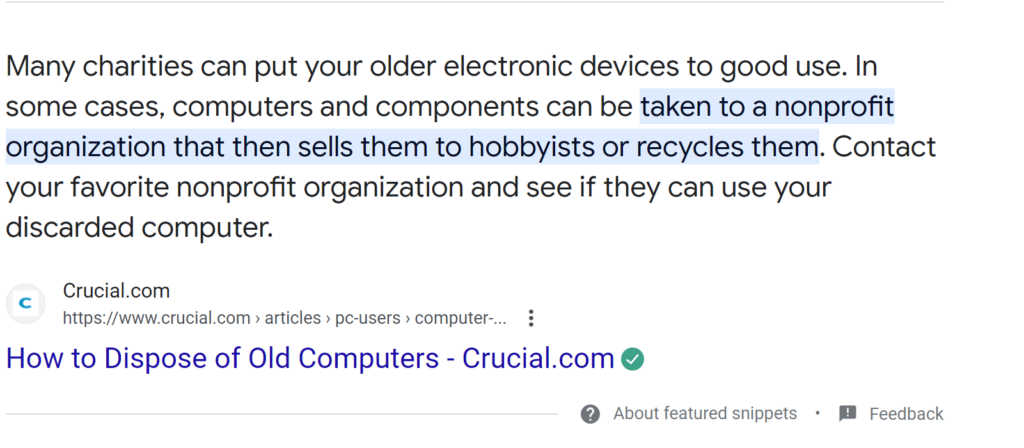 The content that appears inside of a Featured Snippet is automatically pulled from web pages in Google's index. Optimize the content on your webpage so Google chooses to use your content in the Featured Snippet. The key to scaling this up is to add lots of definitions, ordered lists, tables, and other formats that Google loves to put into Featured Snippets on your page.
Local SEO Campaigns, on the other hand, are best suited to target location-specific similar keywords and terms that individuals are likely to be searching in their local areas. 
Important SERP features that businesses can get visibility on include the local map pack, Google My Business cards (that show photos and other information about your business), and organic listings. To start, you need to conduct some research on local search engines and understand what types of queries people are using in your geographic area. You can use tools like Google Keyword Planner or Ahrefs Keywords Explorer to get an idea of what keywords people are searching for in your area. Once you have a list of all relevant target keywords, you can start optimizing your website for them. 
A local map pack is a great real estate to appear in on search engines for local businesses as that's what appears right under paid search results.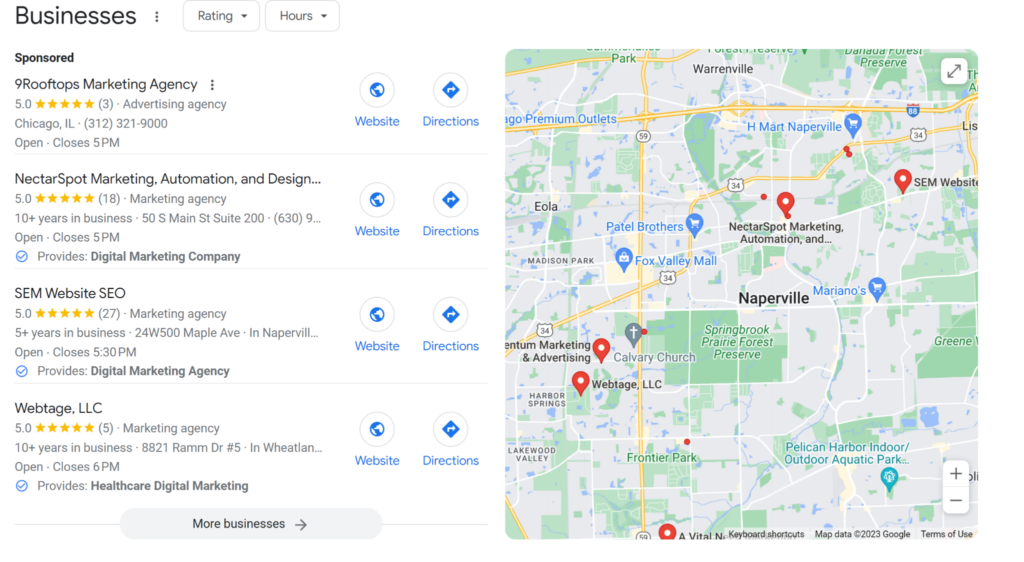 If you're looking to appear on positions 1-3 of Local Pack listings, work on optimizing your Google My Business listing as that provides more than 25% of ranking success in Google Local Pack. Pay attention to your Google My Business listing by verifying it first and optimizing it. 
Key Differentiation 3: Content
In National SEO, top-of-the-funnel content should be emphasized. 
Your content should be of unique and high quality and should be able to solve user problems. For instance, awareness stage keywords, such as 'WordPress vs Drupal,' where the user is trying to figure out a problem, is a great keyword strategy to adopt when creating a content strategy for a National SEO. 

Consider submitting your content on niche or industry-specific lists for higher quality and relevant links.

National SEO strategies rely mostly on high-quality content creation, including blog posts, white papers, and product, industry, and location pages. An important consideration here is

whether to leave your white paper ungated to allow search engines to index the content or gate it for valuable lead information

.

Ensure your website has a proper structure so you can easily access your important pages with as few clicks as possible. This allows people to navigate to your page easily and also signals to search engine bots that the page is valuable when it is not deep inside a complex navigational hierarchy.

Remember to create attractive and useful content that can engage maximum users as Google refers to user engagement and signals as determinants of web page relevancy. 

The main content marketing goal should be Traffic × Conversions = Sales.
Location-based content is emphasized in Local SEO. You should create content that is targeted toward local customers. 
These could be blog posts about events or attractions in the area or reviews of local businesses and services. 

Additionally, make sure that all of your content is optimized for local SEO by including location-specific keywords throughout.

Ensure that the Name, Address, and Phone (NAP) usage is consistent across owned, paid, and earned channels. This is referred to as NAP Consistency.

Ensure that you optimize location-specific pages.

Build backlinks from niche or location-specific citations.
In general, you should let content fuel your SEO strategy. 
Key Differentiation 4: Backlinks
Both Local and National SEO campaigns can benefit from having effective high-quality backlinks, which could be built using content marketing, niche blog postings, link building, and guest blogging. 
While building backlinks for

National SEO

, invest time in building trustworthy links from genuine websites in your niche. Moz Pro SEO, SEMRush, Google Analytics, Google Search Console, Google Tag Manager, and WordPress CMS are a few important platforms that help in improving National SEO. These platforms help analyze traffic, backlinks analysis, competitor analysis, and visibility of websites in the search results.

An important aspect of

local SEO

is claiming and managing profiles on directories like Google My Business, Yext, and Yelp. These profiles help customers discover your business online and provide an opportunity for you to manage the information about your business that appears in search results. Make sure all the information listed is accurate and up-to-date, as this will help improve your ranking in search results.
Citations
Creating local citations won't help national SEO campaigns at all. Instead, focus on creating and optimizing informative and valuable content, which helps in boosting the domain authority of the website. 

Maintaining NAP consistency throughout the citations is very important in Local SEO Campaigns. Any inconsistency can lead to dropping the keyword positions in the local search results. Include a map with directions or contact information on each page of your website so potential customers can find their way to your location easily.
Competition
National SEO has a lot of competition, and it is expensive to build top search visibility. If your website has informative and valuable content, it can attract high-quality inbound links that will boost the domain authority of the website and drive search engine ranking positions. To gain traction in search engines

create high authority content

(focuses on building your brand's credentials in an industry), ebooks, how-to content (videos, blogs, infographics), and standout opinion pieces(platforms like Medium and Huffington Post have made it easy for thought leaders to share their ideas), original research pieces (whitepapers, case studies, interviews), and more. 

Generally speaking,

local SEO

has less competition compared to businesses looking for national search visibility, but the approach to building local search visibility relies on building local citations, getting content published in local, industry-specific directories, maintaining NAP consistency, and creating content that is useful, relevant, and local. You can improve your website's visibility and reach new potential customers organically by creating a city-specific landing page, FAQ pages, hosting local events, and more.
Key Differentiation 5: Reasons to Choose National vs Local 
Reasons to Choose National SEO
Target Market:

National SEO is an excellent technique for enhancing your brand recognition across locations and positioning yourself in the crowded marketplace.

Established Expertise:

If you have a

national SEO campaign

in place, establish your brand expertise by developing thought leadership articles.

National Level Brands:

If you have become big enough on a national level, national SEO can help you penetrate even the international market.
Reasons to Choose Local SEO
Local Area Focus:

If your company is relatively new in the business and targets local clientele, it's better to target local customers.

Local Competition:

If you are only competing against local businesses that offer the same products and services as you do, then go for local SEO.

Nature of Business: Local SEO

can definitely improve your chances of attracting people who might need your business in your area.
Conclusion
Having a solid SEO foundation should be a priority for your business. Every business is unique and requires a unique approach to marketing its campaign online.
The key ranking factors for local SEO are quality local backlinks, google my business optimization with high-quality images, frequency of listings, business updates listings, and review quality and quantity.
While a high-quality result for National SEO primarily depends on the authority, expertise, and reliability of the content.
With the right SEO strategies, you can increase your website's visibility and rankings, as well as boost your keyword's searchability and annual revenue. The best SEO company in Chicago can help in developing and implementing SEO campaigns for your business.