Top 7 Principles for a Successful Website Design/Redesign
'Give me 6 hours to chop down the tree and I'll spend the first four sharpening the axe' – Abe Lincoln
Nothing frustrates me more than a client who has recently spent tens of thousands of dollars in getting an expensive website design overhaul without putting a great deal of thought into understanding buyer personas, user experience (UX) principles, and digital marketing basics.
81% of your prospects go to your website to "check you out" before they even think of contacting you. What's more important is that 51.3% of your prospects will rule out a firm before even talking to them. (Hinge Marketing, 2015).
What does this mean for you? It simply means that your website is the foundation for all your marketing campaigns and therefore it should be sticky and enable visitor conversions. Sounds simple, right?  Not always so!
The problem arises because a lot of websites are built for the company and not for the user. Brands want to put their best foot forward. They want to tell users what makes them special, showcase their products and services, and expect users to convert. Instead, a successful website should resonate with the user and nurture them to convert.
Key Website Design Drivers – User Goals & Expectations
Visitors come to your website to with certain expectations and goals. It is paramount to craft your website around those user goals (and associated tasks) and user expectations. The infographic synthesizes how user goals and user expectation affect the effectiveness of your website: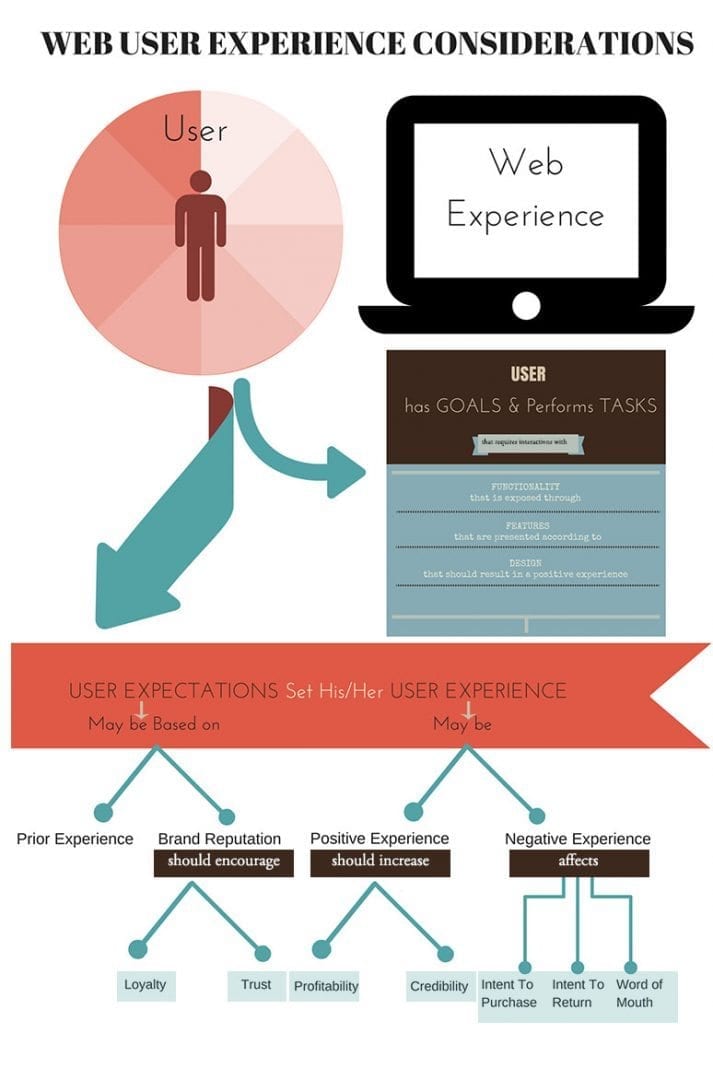 So where should you start?
Develop User personas and user stories – This is the most important step you could take for successful website redesign. Create user profiles of your typical customers, including their problems, challenges, and goals. Develop user stories, which are desired site functions as seen from a user perspective.  Get as detailed as you can. Create personas of individuals, not groups of targets or business types. Good design should always cater to the needs of your user. If you do not understand your user(s) well enough, the website will not work to fulfill your goals even if it shines aesthetically.
Design for Self-Segmentation – Good website design should allow each visitor to be able to self-segment easily. Once you have developed user personas and user stories, you know what their goals and expectations are. Tailor your website to speak to those goals and expectations through smart layouts and visuals, optimized navigation, explicit messages, and clear calls to action.
Map out the logical paths of each persona to guide them to convert. Each page should have a specific goal and should smartly fit into the logical path you have created for each user.
Target the Primitive Brain – We all have a primitive brain, called the Amygdala that controls our gut reaction. Even before our rational mind spurs into action, we form a gut reaction in 3 seconds or less. Design for the Gut Reaction! The minute we land on a site, we form an opinion – professional, trustworthy, relatable vs. amateurish, cluttered, not worth the time! Design perspective, colors, typography, images, and layouts – all work together to create the crucial first impression. A professional designer will be able to guide you in the best design direction to create a desirable first and lasting impression.
Tell a Story and Make an Emotional Connection– There are more than 1.2 billion websites today. To capture the hearts and minds of the user, it is important to pique the emotional interest of a user.  You want people to interact with your brand and hopefully convert into repeat users or customers. How do you tell an effective story that makes an emotional connection?

Start by thinking about the concepts and values that define your brand.
Filter out the fluff. Dissect what you do best and tell it like it is- from the heart.
Keep it personal. Add custom content that creates a personal touch. Stock images of people shaking hands has been overdone!
Think about turning your brand values into informative, helpful, or entertaining stories.
Then use layouts, evocative visuals, typography, web copy, and interactive features to amplify those stories.

A great example of storytelling and making an emotional connect is Cyclemon's website (www.cyclemon.com) which makes the point that 'you are what you ride.' By associating bicycle caricatures of stereotypical users, they have used many brilliant design features to connect with their user personas.
Build Trust –

You need users

to not only need to be interested in your business, they need to be able to trust it too. By integrating trust-building elements, your website will become a powerful tool for conversions. So what are these trust-building elements?




Utilize the site real estate to clearly state your unique value proposition and other trust building elements, such as social proof, client logos, testimonials, badges, case studies, website security details (especially if you are an ecommerce site) and a strong About Us page.




Lastly, show your face. Adding a personal touch by putting a face(s) to your organization can go a long way in building trust. Remember, people like to do business with people and not with a faceless entity.
Make it Interactive –

Whether your website is informational, entertaining, or one that requires enabling transactions, make sure you offer interactions with your users.  The simplest form of interaction is the website navigation that allows users to find explore your website further. More interactive features can work to encourage users to explore your brand further. Use of sliders, videos, galleries, case studies are an excellent way to make your website sticky.
By making design responsive to scrolling or hovering is an excellent way to wow your users and subtly guide them to convert.
Optimize for Search Visibility – No amount of conversion optimization or effective design principles will bring visitors to your website. Make sure you integrate best practices for search engine visibility, include meeting guidelines, content optimization, indexing, navigation and cross-channel marketing to improve your site's visibility.
Planning a website overhaul? Contact me at snigdha@webtage.com for step-by-step guidance in developing and launching a successful site.