In 2018 Google unveiled its "medic update" which had strong implications for businesses in the YMYL (short for 'Your Money or Your Life' or in other words websites that provide any information that affects people's health, wellness, or money). Since more than 40% of websites affected due to this update were health related sites, this came to be known as the "medic update." There have been further Core Quality Updates in 2019 that continue to have deep implications for search visibility of healthcare organizations.
So what do these updates mean if you are a healthcare provider? Put simply, it means that Google does not want to recommend "uneducated advice, opinions, or potentially fraudulent websites." Google wants to be certain that the sites that they recommend display a high level of expertise, authority, and trustworthiness.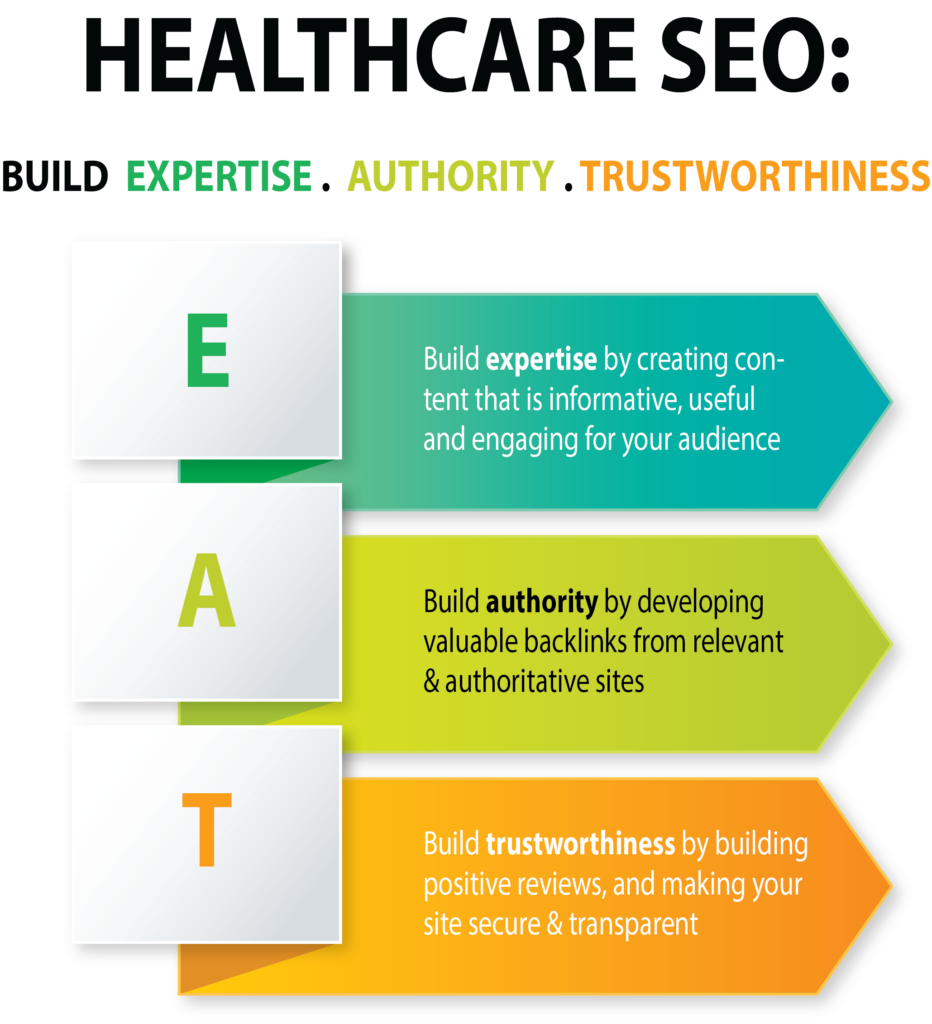 So how do you signal your expertise, authority, and trustworthiness to Google?
Expertise
Build expertise by creating frequent content that is informative, useful and engaging for your audience.
Remove poor quality, dated content from your website that would signal half-baked, incorrect, or worse, harmful information to your audience.
Keep in mind that it is not only important to build E.A.T. for your website, but also work on building E.A.T. for your content creators. How?
Ensure your content creators are experts in healthcare. Google has indicated that "medical advice needs to be written by people with high medical E-A-T to be considered high quality."
You may be a wonderful and experienced doctor, but if you haven't built your online profile then there is nothing in the digital world to back up your expertise. So strengthen your online expertise by writing guest articles for niche publications in your field and contribute to industry publications and forums.
Add by-lines expert to website content. This will signal that the author is an expert in the profession or niche and the information provided in that blog is trustworthy.
Link content creator's profile to other online profiles, especially on authority sites.
Use structured data to markup the author's profile that will allow for a connection to be made with other online profiles for the author.
Cite credible research, statistics, and data in the content that you create.
Authority
Build authority by developing valuable backlinks from relevant & authoritative sites.
Gain backlinks from high authoritative sites naturally by guest blogging for niche high DA (domain authority) sites. Most health-related guest blogging sites have clear guidelines on the types of content they will consider for publication. Identify sites that are the best fit for your specialty.
Create outbound links to high quality health sites & industry publications. Try to include links to research studies or academic journal. Outbound links to .edu or .gov or .org sites are especially useful.
Quality over quantity! Take your time to build good quality links. Building links through automated citation submissions may not be enough anymore.
A good social media strategy will help you market your content and get your content shared – another great way to build authority.
Trustworthiness
Build trustworthiness by building positive reviews. Positive client reviews help in increasing the E.A.T. score, so encourage all the satisfied patients to write testimonials on Google My Business, social media, and review sites.
Many healthcare provider websites allow for email subscriptions, online appointment scheduling, online portal sign-ins etc – all considered to be Protected Health Information (PHI) under HIPPA. This patient data is vulnerable to being stolen unless your site is secured with an SSL certificate. An SSL certificate is not only necessary for you to be HIPPA compliant, it also signals trustworthiness of your website. Google takes privacy of user data very seriously and provides a boost to those websites that signal their intent to protect their user's information. So make sure your website is secure with an SSL certificate!
Have a clear way for your visitors to contact you with a clearly accessible Contact page.
Include a Privacy Page to let your patients know how you gather, use, disclose, and manage their data.
If you allow for online transactions through your website, ensure that clearly outline your refunds & returns policy.
E.A.T. is not the only update that has had an impact on Google search rankings of healthcare businesses. The 2019 B.E.R.T. is another update that has hit some healthcare sites hard and is about incorporating Natural Language Processing (NLP) into Google searches. And if pages on your website don't provide information on topics that users are keying into search bars, then your website is likely to be overlooked.
Note the common theme in all the updates? Create content that is informative, useful, and engaging. Google has been saying this for a very long time. Create great content. That has not changed and will not change. See how we used content creation and a solid digital marketing strategy to help a healthcare practice gain top search visibility, increase online patient lead generation, and grow their long-term patient panel 60%.